Danske Fragtmænd gained the top spot at the 2021 Danish Championship for transport apprentices
20. september 2021
Our driver apprentice, Nicky W. Pedersen from Stavnskær Fragt, came out on top in the driver championship in the Danish Championships for transport apprentices, which took place at the Transport Fair 2021. He thus took away a gift cheque, a trophy and the title as Denmark's best driver apprentice.
In keeping with tradition, the Danish Championship for transport apprentices was held at the 2021 Transport Fair at MCH Messecenter Herning. Here, driver and warehouse apprentices compete in different disciplines to see who is the most accurate and the fastest in the many different tasks that they perform in connection with their work.
At Danske Fragtmænd, we are very proud that it was one of our apprentices who gained the top spot in the drivers' championship. Nicky W. Pedersen, who is an apprentice driver at our freight carrier company Stavnskær Fragt A/S, ran with the overall victory.
The driver apprentices competed in disciplines such as precision driving with a tractor unit and trailer, load distribution using a forklift and securing cargo, amongst others. These were the ones, at which Nicky W. Pedersen was the best and he could let himself be crowned Danish Champion.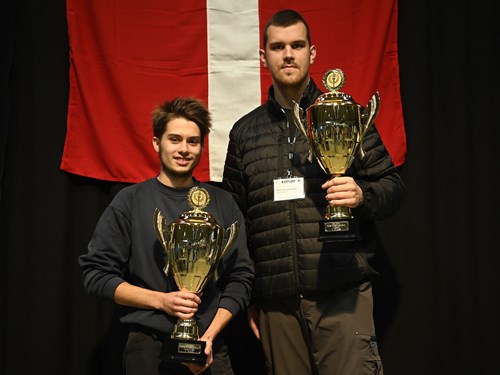 Nicky W. Pedersen from Stavnskær Fragt (at the left) and Mathias Søttrup Schunck from AAG Aalborg Gummivarefabrik (at the right). Photo: Lars Møller / MCH